---
Current News and Notices
Please note if you are using our website on a mobile device/cell phone, you may need to scroll to the bottom of the screen to see information such as our hours of operation, holiday closings, and quick links to Registrations, Payments, Maps, Applications and Meetings.
---
PROPERTY RECORD/TAX CARDS
Updated 2023 tax cards for all Belmont properties have been uploaded to our website, and can be accessed through the AxisGIS system: https://next.axisgis.com/BelmontNH/
Cards may be searched by property address, owner name or map and lot number. Once you locate the property you are looking for, click on VISION PROPERTY CARD under the Documents section (see example below).
---
2023 Tax Rate
The Town of Belmont's 2023 tax rate was set in coordination with
the NH Department of Revenue Administration.
This year's total tax rate has been set at $17.47, which breaks down as follows:
| | |
| --- | --- |
| Town | $5.86 |
| Local School | $9.47 |
| State School | $1.25 |
| County | $0.89 |
| 2023 Tax Rate | $17.47 |
Tax bills have been printed and should have arrived in your mailbox. Tax bills are also be posted on the Town Clerk/Tax Collector's web page. Tax bills are due December 18th, 2023.
We are finishing up work generating over 4,500 PDF documents for the final 2023 Vision Property Tax Cards and those will be posted to our website through the GIS Maps system next week.
---
BELMONT BOARD OF SELECTMEN
NOTICE OF PUBLIC HEARING

Tioga Meeting Room- 4th Floor Mill
14 Mill Street Belmont NH 03220

Notice is hereby given that on Wednesday, December 20, 2023 10:00 a.m. the Board of Selectmen will hold a Public Hearing, per RSA 31:95-b, II-IV, to accept unanticipated funds; in the amount of $54,833.27 from the State of New Hampshire's Special One-Time Highway payment in accordance with Senate Bill 401; Payment for maintenance, Construction and Reconstruction of Class IV and V Highways.
---
Town of Belmont
Supervisors of the Checklist Meeting Notice
The Belmont Supervisors of the Checklist will be in public session at the Belmont Town Hall, 143 Main Street, Belmont NH on the following dates and times, to accept new voter registrations, and to make additions, changes, and corrections to the voter checklist. You can also register to vote and make changes at the Town Clerks office Monday thru Friday 7:30am - 4pm
SUPERVISOR MEETING HOURS
December 9, 2023, Saturday 11:00am-11:30am
January 13, 2024, Saturday 11:00am-11:30am
---
---
2023 Sales Update FAQ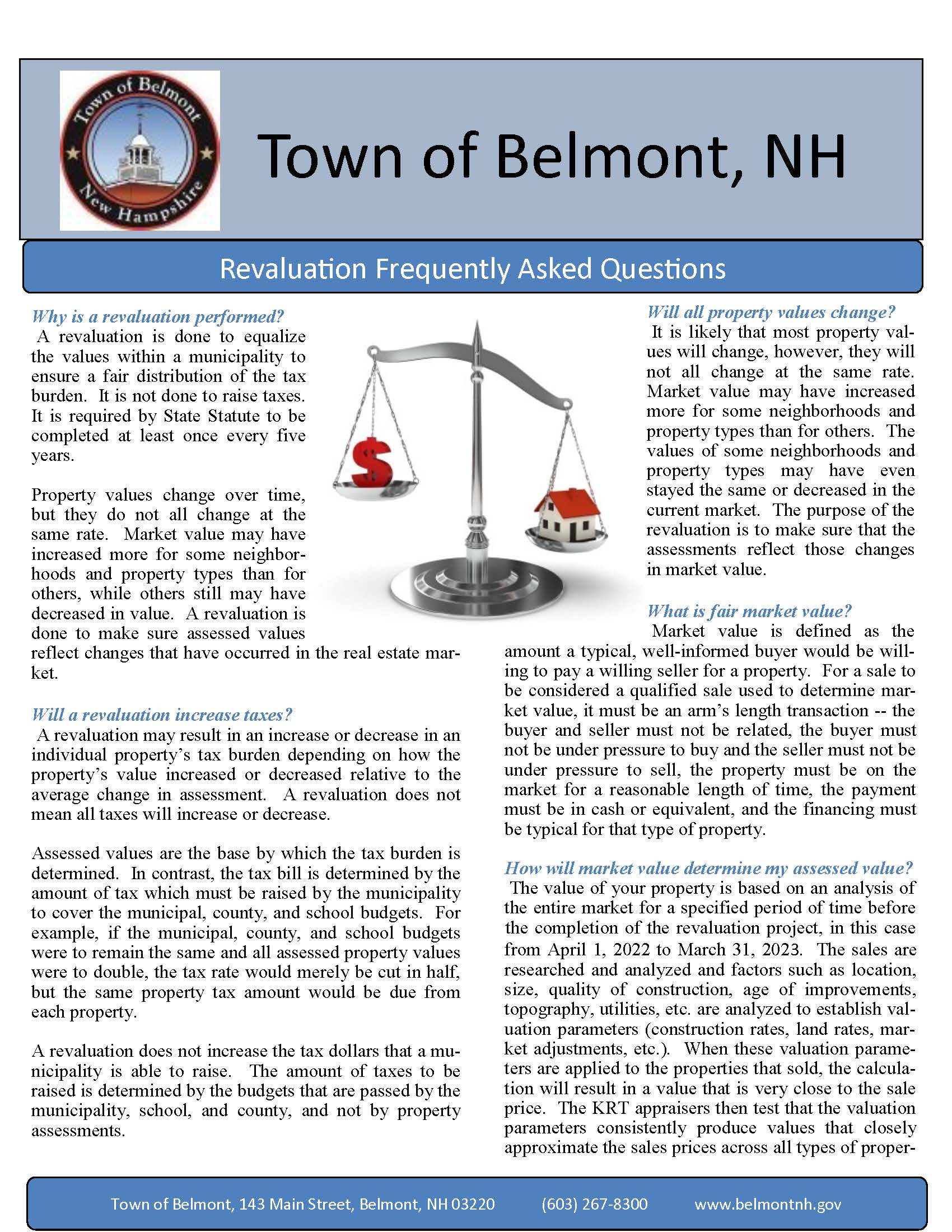 ---
Job Openings
Part-Time Library Assistant
The trustees of the Belmont Public Library are seeking a PT Library Assistant.
Under direction of the Library Director, performs a wide variety of general library work in technical and/or public services to assist patrons with daily operational needs of the Library. Regularly scheduled night and weekend work is expected. Current schedule is Wednesday 10am-6pm and Saturdays on a rotating schedule. More hours may be available depending on library needs.
Education requirements: High school degree or equivalent
Starting pay: $15/hr. This is an unbenefited position.
To apply, email a single PDF file which includes resume and cover letter to director@belmontpubliclibrary.org
Résumés will be accepted until the position is filled. Initial screening begins November 28, 2023. Full background check required
https://www.belmontpubliclibrary.org/Pages/Index/182183/job-openings
---
Assistant Fire Chief
Belmont Fire Department
The Town of Belmont Fire Department is seeking a qualified candidate for an immediate opening for the position of Assistant Fire Chief. This position is responsible for managing all divisions of the Fire Department. This is a senior management position and is second in command of the department. This position also includes command and/or support at major incidents and is designed as a 24 hour on call position.
Qualifications will include:
Eight years of increasingly responsible fire service experience, five years of which were in a supervisory capacity.

Associate's Degree in Fire Science or related field or any equivalent combination of education and experience (Bachelor's degree preferred)

Certified Firefighter II, (New) or Certified Firefighter III (Old)

Nationally Registered AEMT (Paramedic Preferred)

Fire Inspector 1 & 2

Hazardous Materials Operations

Certified Fire Officer I & II.

Certified State of New Hampshire Fire Instructor

NIMS ICS 300, NIMS ICS 400

Possession of or ability to readily obtain a valid driver's license issued by the State of New Hampshire (CDL-B with tanker endorsement)

Thorough knowledge of all applicable laws, codes and standards

Excellent knowledge of all phases of fire department and emergency management operations including labor relations, budgeting, fiscal management, personnel management, information management and incident command

Or any equivalent combination of education and experience which demonstrates possession of the required knowledge, skills, and abilities.
This is a full-time exempt position. Position remains posted until filled. The Town of Belmont is an EOE.
Letters of intent and resume must be submitted to: Chief Deborah Black P.O. Box 837, Belmont NH 03220 by the end of the day on October 6th before 16:00.
For more information and complete details, please go to the Town of Belmont's website at Belmontnh.gov.
Assistant Chief Job Posting (PDF)
Assistant Chief Job Description (PDF)
---
Belmont Fire Department
Firefighter ALS Provider
The Town of Belmont Fire Department is seeking 2 qualified candidates to fill immediate openings for the positions of Full Time Firefighter/ALS Provider (minimum AEMT. Paramedic Preferred.) These individuals will perform responsible firefighting operations, emergency medical care, and other related duties that apply.
MINIMUM QUALIFICATIONS:
▪ High school diploma or GED (Associates Degree Preferred)
▪ Certification as a Pro Board Firefighter I (must become certified at Firefighter II Level within one year.)
▪ Nationally Registered EMT (must become certified as AEMT within one year.)
▪ Possession of or ability to readily obtain (within one year,) a valid driver's license issued
by the State of New Hampshire for the type of vehicle or equipment operated (CDL-B)
▪ Eligible under State of NH Administrative rules, 701.01, 701.02, 702.01, 702.02 or a lateral transfer that meets rule 703.01.
▪ Pass a criminal and driving background check
▪ Pass an NFPA 1582 pre-employment physical
This position will work an average 42-hour week. The schedule consists of one 24-hour shift (0700-0700) followed by three days off on a rotating basis. Do not attach copies of certifications. A transcript from the NHFA or similar educational institution will be accepted as proof of certifications. No email submissions accepted. These are Union positions. The Town of Belmont is an Equal Opportunity Employer. These positions are 3 year grant funded positions.
23-03-13 FF_ALS_Grant Posting.PDF
Cover letters and resume must be submitted to:
Firefighter/ALS Provider Hiring Process
Attention: Assistant Chief Deborah Black, PO Box 837 Belmont NH 03220

---
December Newsletter
The December Newsletter (PDF) is available here.
Previous Editions can be found here...
---
2023 - 54th Belmont Ten Mile Road Race
Results of the 10-Mile Road Race held on 08/12/2023 can be found at: http://www.iresultslive.com/?op=overall&eid=5719
---
Bulky Item Collection & Disposal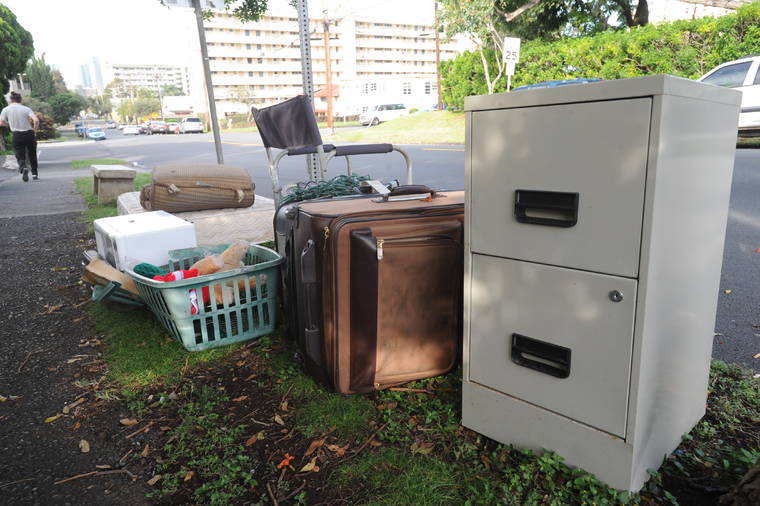 Town of Belmont Residential Customers ONLY
On the 1st Wednesday of each month,
Casella Waste will collect your bulky items curbside.
Piles of debris, trash, yard waste or a single item too large for one person to collect
WILL NOT BE ACCEPTED.
A request for pickup must be made in advance by calling Town Hall at 267-8300, Extension 118 or 124. You will be asked to list the items you want picked up, you will be advised what the cost is, and
You will need to drop off a check made payable to the Town of Belmont prior to the collection day.
CLICK HERE FOR THE FULL NOTICE WITH FEES, COLLECTION DATES AND MORE
---
2022 Annual Report
---
---
Important Notice
Dont' put bad/stale beer down the drain even in small volumes!
Please click here for the full artcle.
---
Not Everything is Flushable!!!
During this time of crisis it is important that we be mindfull of what is flushable and what is not. Check out the DO NOT FLUSH list to protect your sewer and septic system.
A "Flushable" label does not mean it is SAFE for your septic system or sewer.