Municipal Job Openings
The Town of Belmont is an Equal Opportunity Employer

To apply for any positions listed below, print, complete and mail or deliver the employment application form.
---
Belmont Fire Department
Firefighter ALS Provider
The Town of Belmont Fire Department is seeking 2 qualified candidates to fill immediate openings for the positions of Full Time Firefighter/ALS Provider (minimum AEMT. Paramedic Preferred.) These individuals will perform responsible firefighting operations, emergency medical care, and other related duties that apply.
MINIMUM QUALIFICATIONS:
▪ High school diploma or GED (Associates Degree Preferred)
▪ Certification as a Pro Board Firefighter I (must become certified at Firefighter II Level within one year.)
▪ Nationally Registered EMT (must become certified as AEMT within one year.)
▪ Possession of or ability to readily obtain (within one year,) a valid driver's license issued
by the State of New Hampshire for the type of vehicle or equipment operated (CDL-B)
▪ Eligible under State of NH Administrative rules, 701.01, 701.02, 702.01, 702.02 or a lateral transfer that meets rule 703.01.
▪ Pass a criminal and driving background check
▪ Pass an NFPA 1582 pre-employment physical
This position will work an average 42-hour week. The schedule consists of one 24-hour shift (0700-0700) followed by three days off on a rotating basis. Do not attach copies of certifications. A transcript from the NHFA or similar educational institution will be accepted as proof of certifications. No email submissions accepted. These are Union positions. The Town of Belmont is an Equal Opportunity Employer. These positions are 3 year grant funded positions.
23-03-13 FF_ALS_Grant Posting.PDF
Cover letters and resume must be submitted to:
Firefighter/ALS Provider Hiring Process
Attention: Assistant Chief Deborah Black, PO Box 837 Belmont NH 03220
no later than 15:00 Friday, March 31, 2023
---
PLANNING & ZONING ADMINISTRATOR
BELMONT, NH

The Town of Belmont (population 7500), centrally located in the Lakes Region of New Hampshire, is seeking qualified candidates for the position of Planning & Zoning Coordinator. Working under the direction of the Planning Board, the Planner provides management, leadership, and coordination to the planning, engineering, zoning, code enforcement, and economic development activities of the Town. Must possess a service orientated attitude, and a thorough knowledge of the land use operations and functions of a municipal land use department. Coordinates all aspects of development projects. Requires a Bachelor's degree in Planning or related discipline, Master's degree highly desirable, with a minimum of 5 years related experience, including two years in a municipality. American Planning Association member and American Institute of Certified Planners (AICP) certification desirable. Salary range to $91,000; starting salary commensurate with qualifications, plus excellent benefits. The Town of Belmont is an Equal Opportunity Employer.
For further information potential candidates are directed to the Municipal Resources, Inc. website at www.mrigov.com/career or to contact Municipal Resources, Inc. at 603-279-0352 ext. 330.
To apply submit a resume and cover letter in confidence as a PDF attachment to recruitment@mrigov.com.
Resumes accepted until position is filled with first review on Wednesday, February 22nd, 2023.
Click for the Planning & Zoning Administrator Job Description (PDF)
---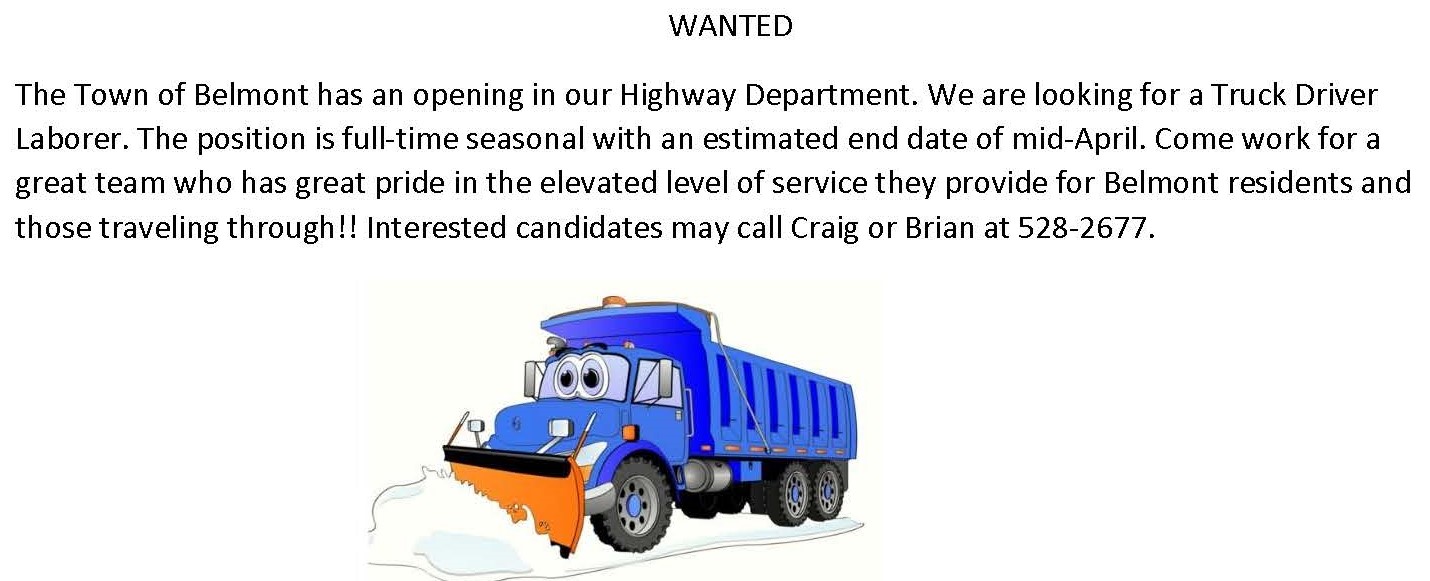 ---
Town of Belmont
HIGHWAY DEPARTMENT TRUCK DRIVER/LABORER
JOB POSTING
The Town of Belmont is seeking a qualified individual for the position of Highway Department Truck Driver/Laborer reporting to the Public Works Director. The successful candidate will perform a variety of routine skilled and unskilled manual laboring duties. The position requires a NH CDL "B" license with airbrake endorsement. The individual chosen for this position must possess a willingness to work with others including the general public. High School Diploma or equivalent is required; experience with the operation of heavy trucks necessary. Driver's License and Criminal record check required, mandatory participation in the department's Drug/Alcohol Screening Program as required by federal law. This is a full-time position with great benefits and enrollment in the NH Retirement System. Pay based on experience.
Applications and a copy of the complete job description are available at the Belmont Town Hall, send a resume and letter of interest to DPW Director, PO Box 310, Belmont, New Hampshire 03220. The Town of Belmont is an Equal Opportunity Employer.
---