Community Newsletter and Calendar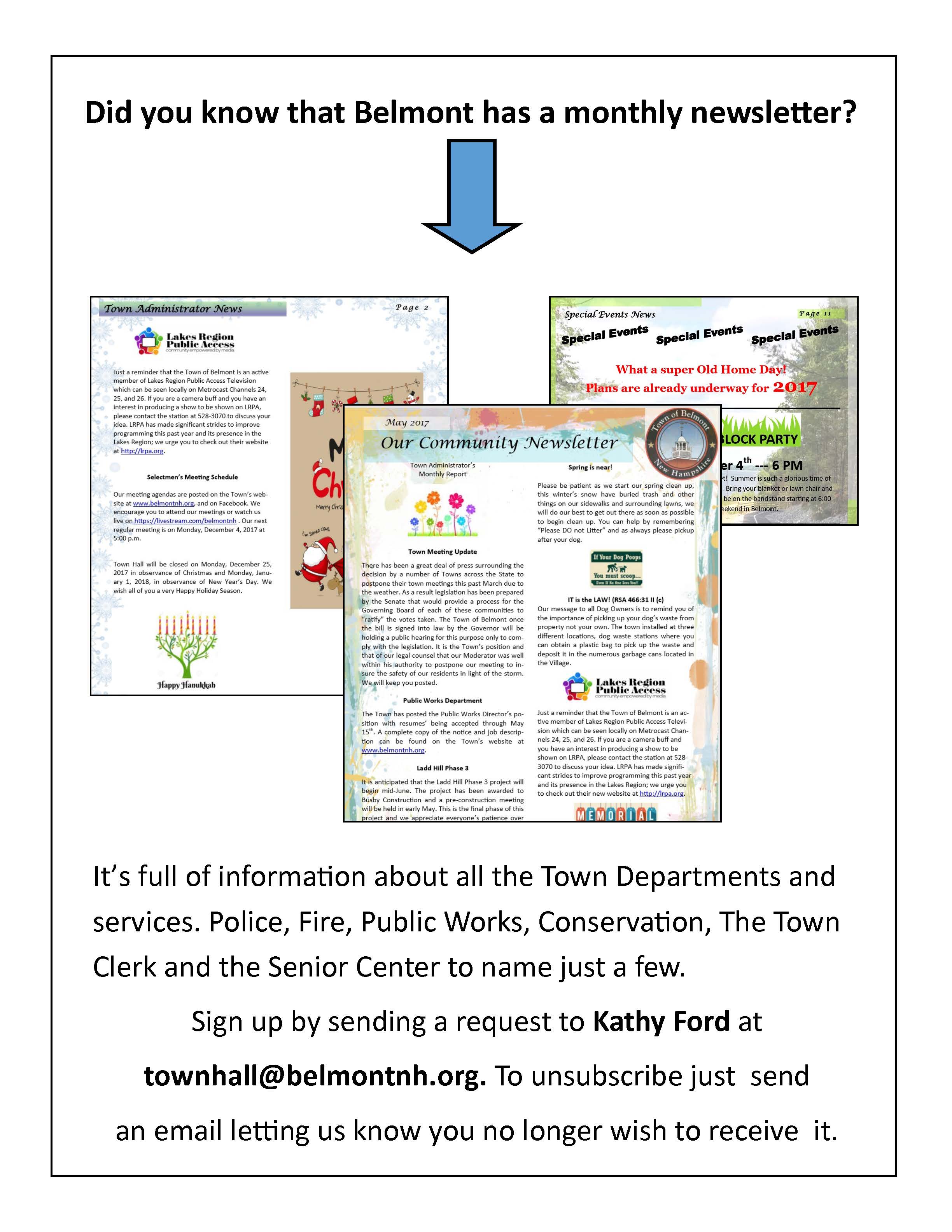 Each month the Town publishes a Monthly Newsletter and Community Calendar. Below are both current and past issues.

The Town also e-mails the Newsletter to those wishing to subscribe. To receive this service just send a request to assessing@belmontnh.gov. Be sure to put "Belmont Newsletter Subscription" on the Subject line and let us know the e-mail address(es) you wish us to use. You won't have to worry about missing our upcoming issues!


Also See our "Who to Call"/"When We're Open" Timely Reminders!
---
Links to Past Newsletters
2023
---
2022
---
---
2021
| | | | | | |
| --- | --- | --- | --- | --- | --- |
| January, 2021 | February, 2021 | March, 2021 | April, 2021 | May, 2021 | |
| July, 2021 | August, 2021 | September, 2021 | October, 2021 | | December, 2021 |
---
2020
| | | | | | |
| --- | --- | --- | --- | --- | --- |
| January, 2020 | February, 2020 | March, 2020 | April, 2020 | May, 2020 | June, 2020 |
| July, 2020 | August, 2020 | September, 2020 | October, 2020 | November, 2020 | December, 2020 |
---
2019
| | | | | | |
| --- | --- | --- | --- | --- | --- |
| January, 2019 | February, 2019 | March, 2019 | April, 2019 | May, 2019 | June, 2019 |
| July, 2019 | August, 2019 | September, 2019 | October, 2019 | November, 2019 | December, 2019 |
---
2018
| | | | | | |
| --- | --- | --- | --- | --- | --- |
| January, 2018 | February, 2018 | March, 2018 | April, 2018 | May, 2018 | June, 2018 |
| July, 2018 | August, 2018 | September, 2018 | October, 2018 | November, 2018 | December, 2018 |
---
2017
| | | | | | |
| --- | --- | --- | --- | --- | --- |
| January, 2017 | February, 2017 | March, 2017 | April, 2017 | May, 2017 | June, 2017 |
| July, 2017 | August, 2017 | September, 2017 | October, 2017 | November, 2017 | December, 2017 |
---
2016
| | | | | | |
| --- | --- | --- | --- | --- | --- |
| January, 2016 | February,2016 | March, 2016 | April, 2016 | May, 2016 | June, 2016 |
| July, 2016 | August, 2016 | September,2016 | October, 2016 | November,2016 | December,2016 |
---
2015
| | | | | | |
| --- | --- | --- | --- | --- | --- |
| January, 2015 | February,2015 | March, 2015 | April, 2015 | May, 2015 | June, 2015 |
| July, 2015 | August, 2015 | September,2015 | October, 2015 | November,2015 | December,2015 |
---
2014
| | | | | | |
| --- | --- | --- | --- | --- | --- |
| January, 2014 | February, 2014 | March, 2014 | April, 2014 | May, 2014 | June, 2014 |
| July, 2014 | August, 2014 | September,2014 | October, 2014 | November,2014 | December,2014 |
---
2013
| | | | | | |
| --- | --- | --- | --- | --- | --- |
| January, 2013 | February, 2013 | March, 2013 | April, 2013 | May, 2013 | June, 2013 |
| July, 2013 | August, 2013 | September, 2013 | October, 2013 | November, 2013 | December, 2013 |
---
2012
| | | | | | |
| --- | --- | --- | --- | --- | --- |
| January, 2012 | February, 2012 | March, 2012 | April, 2012 | May, 2012 | June, 2012 |
| July, 2012 | August, 2012 | September, 2012 | October, 2012 | November, 2012 | December, 2012 |
---
2011
---