2023 10-Mile Road Race Results
Results of the 10-Mile Road Race held on 08/12/2023 can be found at: http://www.iresultslive.com/?op=overall&eid=5719
---
2023 Old Home Day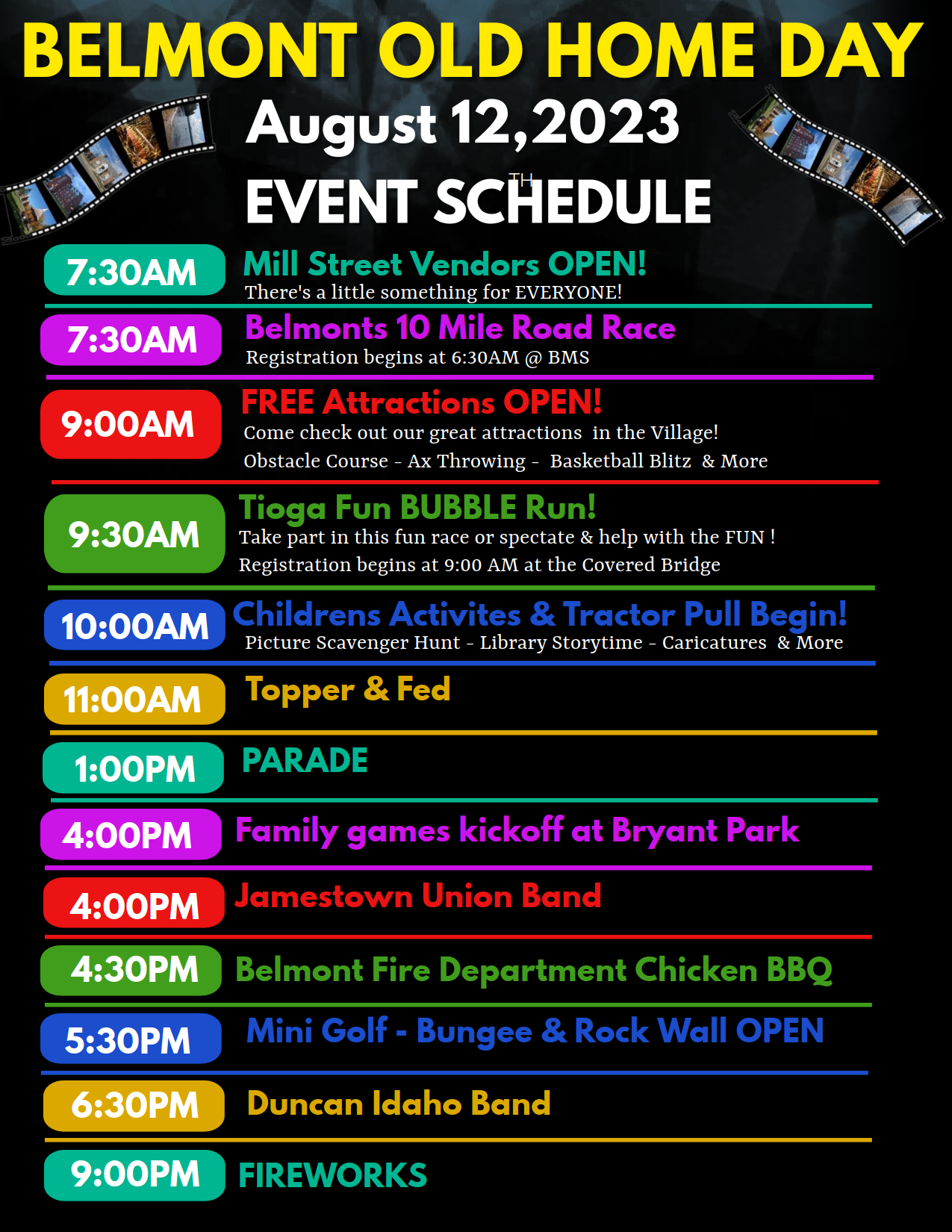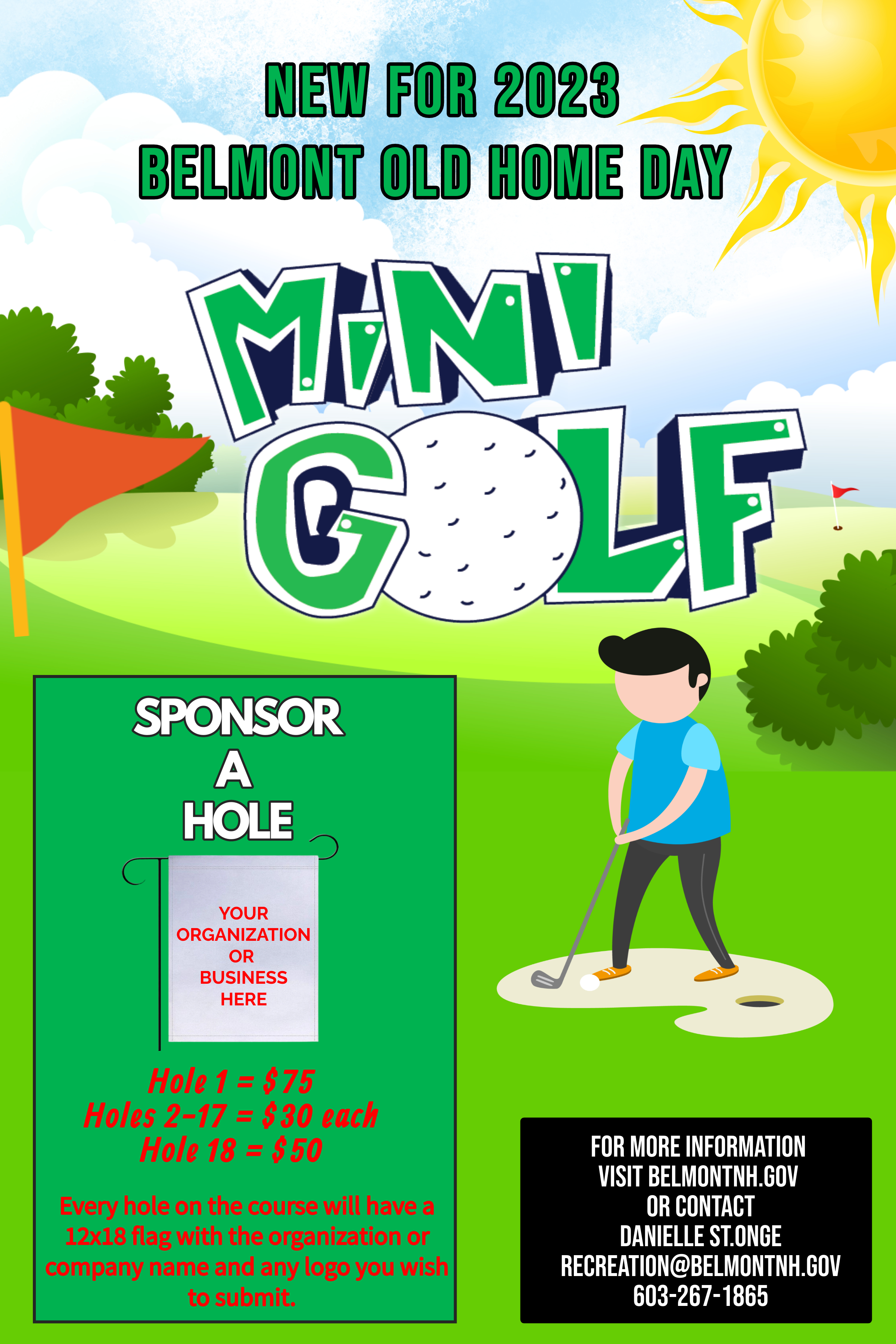 ---
2022 10 Mile Road Race Results
Click HERE to view the 2022 Belmont 10 Mile Road Race Results from Old Home Day.
---
Belmont Old Home Day 2021
The Board of Selectmen are happy to announce that we will be hosting the 2021 Old Home Day parade and festivities, and the Road Race. Old Home Day is such a important tradition in Belmont, and we are happy to be able to resume this time-honored tradition in 2021.
Old Home Day wasSaturday August 14, 2021. This year's theme will be "We're Better Together".
Link to 10-Mile Road Race Course Map
Link to 10-Mile Road Race Results 2021
---
Old Home Day 2019
Donna Rhodes-Photo credit



Lady Winifred and her Husband

According to historical information, the tradition of Old Home Days was started by NH Governor Frank Rollins in 1899. These annual celebrations served as a reminder for people to "remember where they came from" and to return to their home towns to reconnect with family and friends. More than a century later, it is still the goal of the Old Home Day Committee to have residents keep that connection to our community, no matter how far their travels take them. Our Old Home Day is traditionally held on the 2nd Saturday of August each summer.
Belmont Old Home Day offers various activities for all ages throughout the day and evening. In partnership with the First Baptist Church and Belmont Fire Department, we are able to continue the tradition of starting the day with a Pancake Breakfast and ending with a Chicken Barbecue. Live performances by various New England bands provide entertainment during the mid-day in the Bandstand area and in the evening on Bryant Field. Our 10-Mile Road Race, now over 50 years old, serves as a challenging training course for marathon enthusiasts. The largest crowds can be seen at the afternoon Parade and spectacular Fireworks display at the conclusion of the day.
Each spring, the Old Home Day Committee also holds a reception for graduating seniors at Belmont High School that are residents of Belmont. These students are nominated by school district staff or residents of the community and elect to participate in the Good Citizen Reception where they deliver speeches and are selected for potential monetary awards for their academics and community involvement. Good Citizen participants assist with children's activities on Old Home Day and are recognized during the parade.
It takes numerous volunteers to keep this annual celebration going, so if you can spare a few hours throughout the year to assist with preparation for the day, or even a few hours on the day itself to execute all of the plans, please contact Gretta Olson-Wilder, Special Events Coordinator, at events@belmontnh.orgor call her at 603-998-3525.
Donna Rhodes-Photo credit
Belmont Old Home Day
Saturday, August 10, 2019

Prepare Now!
It Will Be Here Before You Know It!!

Belmont 10-Mile Road Race Old Home Day Parade
Registration Form Parade Entry Form
Schedule of Events Vendor Application
---
10-Mile Road Race 2019

2019 10-Mile Road Race Results



John Mercer Matt Sawyer Douglas Mercer Brendan McCauley

Photos provided by Austin Wilder
---
---
Parade Grand Marshal 2019
Robert "Bob" Stevens
The Belmont Old Home Day Committee would like to recognize Bob Stevens as the 2019 Parade Grand Marshal.
Bob has served in various capacities in town government, including the positions of Selectmen and Health Officer. He has been active in community and civic organizations for several decades.
As the Post Commander of the Charles Kilborn American Legion Post #58, Bob solicited donations to purchase the banners that are displayed on the utility poles in the village area. During this time, the Legion also started the tradition of offering free ice cream cones to all children attending the Memorial Day parade.
This year, the American Legion is celebrating their 100 Years of Service. Thank you, Bob, for living your life with the Legion's values in mind: Patriotism, Civic Pride, and Community Involvement.
---
Events
FREE PONY RIDES at the Tioga Pavilion!

The Continentals will perform on the Bandstand on Mill St. from 10:30 am to 12:45 pm

Axis 80's Band will perform at Bryant Field from 6:30 pm to 9:30 pm
---
News


Belmont Old Home Day 150 years of Tradition- Winn Echo 8/15/2019
Belmont Old Home Day- Laconia Daily Sun 8/8/2019
Belmont Annual Tradition Returns- Laconia Daily Sun 7/25/2019
Belmont 10-Mile Road Race- Laconia Daily Sun 7/17/19
---
Belmont Old Home Day - August 11, 2018
Belmont Old Home Day
"go the distance"

2018 was the 50th running of our 10-Mile Road Race. Check out some of the runners, times and winners for the last 20 years! We hope you find your name there or would like to see it there in the future!

Belmont celebrates 50 years of Old Home Day Road Race in August Winni Echo 7/12/18
Belmont Old Home Day will celebrate 50th running of road race Daily Sun 7/12/18
Belmont 10-Mile Road Race to Celebrate its 50th Year! Daily Sun 5/24/18
On May 6th, from a large group of outstanding nominees, the Old Home Day Committee named Belmont High School Senior Kaleb Brown as Belmont Good Citizen 2018.
---
Belmont Old Home Day - August 12, 2017
Belmont Old Home Day
"Summertime Fun"

Ron Mitchell, Grand Marshal
Chauffeured by Geri Mitchell
| | |
| --- | --- |
| | |
| | |
| | |
| | |
| Tyler Road Band | B Street Bombers |
(Left to right) Elaine Corriveau, a cousin of the late Wallace Rhodes holds one of his paintings with the Belmont Mill and Bandstand as Village focal points. With her are longtime friends of the artist and historian, Bob Rein and Sherman Gammon, all of Belmont. Courtesy Photo
When 82 year old Wallace Rhodes died last month, he was widely and kindly remembered for generosity to the Belmont community. For some 50 years he served as a volunteer, elected official, and the Town's leading preservation advocate -- notably for the Belmont Mill rehabilitation after a massive 1992 fire, and the 1792 Province Road Meeting House. Old Home Days were a favorite time, and he enjoyed presiding over a collection of vintage photos, carefully curated and researched, and annually displayed at the historic Belmont Public Library.
At Saturday's Old Home Day (August 12) the Library still hosted Mr, Rhodes, with a tribute featuring his paintings of special Belmont places, past and present, and a book of memories organized by Friends of the Bandstand. Subjects of the paintings include the Mill complex, in the early 1900s with multiple buildings spanning the Tioga River, an early view of the Meeting House with parishioners, carriages and horses and a wintry arrival of a passenger train, to the Town's Village and depot. Art was a new undertaking for Wallace, fostered with introductory lessons at the Belmont senior Center about 10 years ago. The paintings are on loan from cousin Elaine Corriveau and Sherman Gammon, a longtime friend.












Feature of a Wallace Rhodes painting shows the Belmont Mill in early 1900s with a Bandstand performance while children play (left). Wallace Rhodes painting of a wintry train arrival to the Depot, in the Factory Village District, at Belmont's center (right). Courtesy Photos
The Old Home Day Committee honors long-time resident Ron Mitchell as the 2017 Parade Grand Marshal. He has been the driving force behind BRATT (Belmont Recreation and Alternative Transportation Team) and the Lake Winnisquam Scenic Trail for many years. It is through Ron's efforts and dedication to our town that we now have a wonderful trail to use with beautiful views of Lake
Winnisquam. For his contributions of time and effort for the trail, and participation on numerous committees for our town, we thank Ron for making Belmont a better place for us all.
Vendor Packet Parade Entry Form

Lanum, Beeson top Belmont Old Home Day race Winni Echo 8/25/17
Sunshine arrives just in time for Belmont's Old Home Day celebration Winni Echo 8/16/17
Belmont Old Home Day is this Saturday Daily Sun 8/11/17
Belmont American Legion Post 58 to be at Old Home Day on Aug. 12 Daily Sun 8/4/17
Belmont gearing up for annual 10-mile race Winni Echo 8/3/17
Belmont Old Home Day is Aug. 12 Daily Sun 8/1/17
Belmont Old Home Day is Aug. 12 Daily Sun 7/1/17
Courtesy Photos
---
Belmont Old Home Day - August 13, 2016
"Bridging Our Generations - 2016"



Old Home Day and the 10-Mile Road Race and Cow Pie (10 Mile) Relay Race were all held on
Saturday, August 13, 2016!
Parade, Vendors, Food, BBQ and Road Races All on the same Day! Such Fun!

Due to inclement weather, the Belmont Old Home Day Fireworks were postponed to Sunday, August 14th. They were awesome!
Belmont Old Home Day returned to its traditional date of the 2nd Saturday of August for 2016! Our theme for the summer's celebration was "Bridging Our Generations".

The 48th running of the 10-Mile Road Race and 2nd running of our Cow Pie (10-Mile) Relay Race kicked off the day at 8:30am.


Stormy weather fails to dampen community spirit at Belmont's Old Home Day celebration 8/18/16 Winni Echo

Residents gather for Belmont Old Home Day Citizen 8/15/16

Many events to be featured at Belmont Old Home Day on Saturday Citizen 8/13/16

Belmont Old Home Day is on Saturday Sun 8/12/16

Belmont American Legion Post 58 will be busy at Old Home Day Sun 8/11/16

Church to hold food, craft event on Old Home Day Sun 8/9/16

"Bridging our Generations" at Belmont's Old Home Day Winni Echo 7/21/16

Bridging our generations is Belmont Old Home Day theme Daily Sun 7/19/16
Nelson & Theresa Rolfe
Belmont Old Home Day
2016
Parade Grand Marshals!

Everyone Enjoyed the music!
"King Chrome"
At the Bandstand Downtown
10:30am to 12:45pm
Classic Rock
"B Street Bombers"
Bryant Field
6:30pm - 9:30pm
R&B, Rock, Soul & Funk

On April 19th the 2016 Belmont Good Citizen Award was presented to Cory Yelle. Runners up were Sarah Thayer and Veronica Harris. Thank you to all of our nominated students!

Each year the Old Home Day Committee accepts nominations for the Belmont Good Citizen Award. Nominees must be a resident of the Town and someone that displays good citizenship qualities through academic, civic, volunteer and personal achievement. Students receiving this Award are to be commended for their exemplary achievements in being model Good Citizens for the Community. Photo Gretta Olson-Wilder
---
2015 Old Home Day
Belmont Old Home Day - August 1, 2015
The Good Old Days
So Much Fun!! Such A Great Day!!
What Fun We Had!
Rockin Daddios Belmont Heritage Commission Parade Grand Marshals Frank Sweeney Picture
Hope you joined us!
Great Music Makes Everything More Fun!
Featured Performers
Annie & The Orphans Rockin' Daddios
Belmont Road, Relay & Fun Competition Day
10 Mile Road Race
Cow Pie Relay Race


Both courses are US Track and Field Certified!
Fun at the Cow Pie Relay Race and Throw
Click on pictures to enlarge Photos Courtesy Belmont Events

Top left - Trevor Hunt, Belmont winner of the Cow Pie Throw, with a distance of 107', "Frisbee Style"!
Top middle - Emma Roberts during Cow Pie Throw, very "determined" look!
Top right - 1st Place Team, "Belmont FC" soccer players Caleb Burke, Nick Sperduto & Evan Cochran!
Bottom left - Drew Doyle, Sierra Madre, CA, representing "Flash Doyle" team with "overhead throw"!
Bottom right - Dough Price representing "Chocolate Starfish" team and Logan Wilder representing "Runners With Attitude" team battling toward finish line on Main Street!

Vito's 5K Run/Walk

Help Support the Care & Maintenance of Vito
Belmont Police Department's K9 Officer/Drug Enforcement Dog!


Symonds, Cleveland top fields at Belmont 10-Miler Winnisquam Echo 08/13/15
Cow Pie Throw, 10-Miler on Tap for Saturday in Belmont Winnisquam Echo 08/6/15
Race for Fun in Belmont on Sat, Aug. 8 Citizen 08/06/15
Friendship quilt mystery on display at Old Home Day Union Leader 7/30/15
Town of Belmont set for busy day of races on Aug. 8 Echo 07/23/15
Belmont's 10 Mile Road Race gets its own day Citizen 07/16/15
---
2014 Old Home Day
Belmont Old Home Day - August 9, 2014
2014 Old Home Day Theme was "Mardi Gras"!
Fireworks were presented by Atlas Fireworks

2014 EVENT SCHEDULE 2014 EVENT MAP

A Taste of the Big Easy Comes to Belmont for Old Home Day Winni Echo 7/31/14

The Belmont Old Home Day Committee has recognized Belmont High School graduating Senior Andrew Mozier as Belmont's Citizen of the Year Winni Echo 06/26/14
---
2013 Old Home Day
Belmont Old Home Day - August 10, 2013
Old Home Day 2013 Theme was Belmont Pride!


Old Home Day makes a triumphant return to Belmont Village Winni Echo 8/15/13
Old Home Day Parade returns in Belmont after one year off Union Leader 8/9/13
Old Home Day to showcase community pride in Belmont Winni Echo 8/1/13
---
2012 Old Home Day
Belmont Old Home Day - August 11, 2012

Belmont Old Home Day Draws Hundreds Citizen 8/13/12
Old Home Day Will Have to Relocate Due to Extensive Summer Work on Belmont Green Daily Sun
Lauren Price Wins Town Honor Citizen
Good Citizen Award Finalists Reflect Fondly on Small Town Life Winnisquam Echo
Belmont Old Home Day events set for this weekend Citizen 8/9/12
Belmont hosts its 44th annual 10-mile road race at Old Home Day Citizen 8/1/12
Belmont Old Home Day on August 11 Citizen 7/30/12
---
2011 Old Home Day
Belmont Old Home Day's Theme this year "Rockin the Block" was an easy choice for the committee when we decided that we would honor long time and recently retired Belmont High School Band Director Ray Craigie this year. 2011 Report
---
2009 & 2010 Old Home Days


"It was absolutely wonderful to be able to give all of the performs an appreciative and attentive audience to showcase their talent. Thank you for helping us make the day so special!" 2010 Report
"Saturday, August 8th was a beautiful, sunny day and a perfect day for the annual celebration of our Town." 2009 Report
---
2007 & 2008 Old Home Days
"The Old Home Day Committee welcomed Belmont residents and many wonderful guests to a fun-filled day of "Rockin' to the Oldies" on Saturday, August 9, 2008." 2008 Report
"The community celebrated the deep roots of baseball in Belmont." 2007 Report
---