Heritage Commission
---
Members
Vicki Donovan

, Chair
(2025)

Jack Donovan


(2025)

Jillian Rolfe


(2026)

Claire Bickford, V

ice Chair
(2024)

Priscilla Annis,

Secretary (2024)

Ben Rolfe


(2026)

Claude Patten, Jr

., Ex Officio (2024)

Victoria Riberio

(2025) non-voting member, BHS Student Rep.


The Commission consists of seven members appointed by the Board of Selectmen for three-year terms. Rules of Procedure

Meetings

Meetings are regularly held on the third Thursday of every month at the Belmont Mill or outside at the Bandstand, 6:00 p.m. Please check posted agendas as schedule is subject to change as necessary

Purpose & Description

The Belmont Heritage Commission was founded by citizens at the 2004 Town Meeting. Under New Hampshire law RSA 674:44-b as a Land Use Board, we promote recognition, use and protection of the unique historic and cultural resources of Belmont, and also integrate preservation planning as a partnership with individuals, businesses, Town boards and other appropriate groups. (Adopted by the Belmont Heritage Commission on January 13, 2005)

Member Participation

Heritage Commission members are educators both retired and current, parents of Middle School children whose ancestors date far back into Belmont history, a long standing member who in younger years lived in Washington D.C. and shares her historical background, and three members who live in homes dating back to the 1800's, one most recently restored. And we welcome our second Belmont High School Student Representative Victoria Riberio to our commission consisting of Vicki and Jack Donovan, Priscilla Annis, Claire Bickford, Ben and Jill Rolfe along with Sonny Patten (ex officio) respectively.
---
Signature Programs
Community Heritage Awards

presented annually in November with the Selectmen - award-winning restoration of the

1908

Belmont Village Bandstand

Successful grants/funding

for preservation, programs and projects from the NH Preservation Alliance, Land and Community Heritage Investment Program (LCHIP), American Resource and Recovery Act, John M. Sargent Fund and NH Humanities Council

Major technical services

from NH Division of Historical Resources (NHDHR) and others

Community sponsor and organizer

of Deck the Village 2009-2013, 2010 PlanNH charrette, Heritage Series concerts and 2014 rededication celebrations at the historic Belmont Public Library and Bandstand
---
News 2021
Belmont Elementary and Belmont Heritage Commission give goodie bags to Belmont Senior Citizens 11/23/2021
Belmont Heritage Commission recognizes Alvin Nix and Gale School Committee 11/19/2021
---
News 2020
Belmont Heritage Community 2020 Awards- Daily Sun 12/14/2020

Belmont Heritage Commission shares coloring books with students. Article submitted to Laconia Daily Sun
---
News 2019
Click Here for the Heritage Commission 2019 Annual Report.
---
150th Anniversary
Commemorative Items for Sale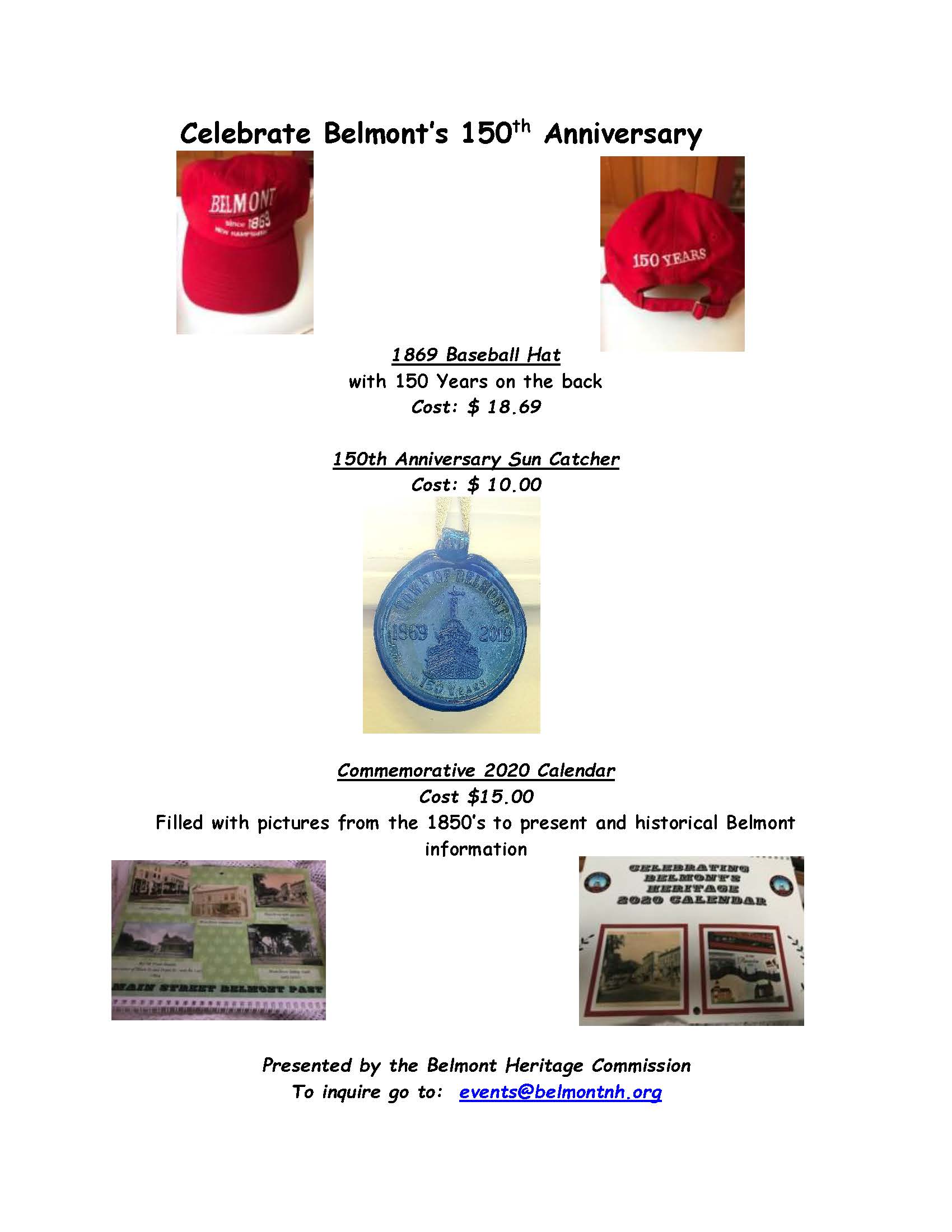 ---
News 2018
Click Here for the Heritage Commission 2018 Annual Report.
---
News 2017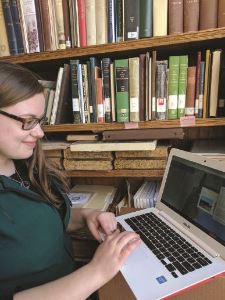 Belmont Heritage Commission adds local historic places to My NH online map
Sun 3/25/17
Elizabeth Nix, a Belmont student and a Belmont Public Library staffer, explores the site. (Courtesy photo)
---
News 2016
Heritage Commission - June, 2016
Bandstand's addition to Register of Historic Places highlights Heritage Fair Winni Echo 5/26/16
Belmont Heritage & Preservation Fair was great first-time effort Daily Sun 6/24/16
Belmont Heritage and Preservation Fair 5/21/16
Belmont's Heritage and Preservation Fair takes place Saturday Citizen 5/20/16
Belmont Heritage Fair on Saturday celebrates town's "Special Places" Sun 5/20/16
Special Belmont places celebrated May 21 at Heritage & Preservation Fair Winni Echo 5/19/16

Belmont Heritage Commission salutes three local initiatives Daily Sun 4/28/16

---
News 2015
News 2015

The Belmont Heritage Commission received yet another commendation for the preservation of the Belmont Bandstand on Monday. From left to right are historic paint specialist John Thompson of JLT Painting in Alexandria, restoration expert J.R. Graton of Northfield, State Sen. Jeanie Forrester, Heritage Commission chair Linda Frawley, Vicki Donovan and Priscilla Annis of the commission, presenter Jennifer Goodman of the New Hampshire Preservation Alliance (rear) and Wallace Rhodes of the Belmont Historical Society President.
Belmont Heritage Commission honored for bandstand restoration Winni Echo 10/22/15
Donna Rhodes, Winnisquam Echo Article & Photo
---
Heritage Series


The Belmont Heritage Commission, John M. Sargent Fund and Friends of the Bandstand are sponsoring several upcoming events at the Village Bandstand.

July 3rd, Red, White & Blues: Jon Lorentz's Soul Revival Band Featuring Miss Sharon "Sugar" Jones
Red, white and blues Citizen 7/2/15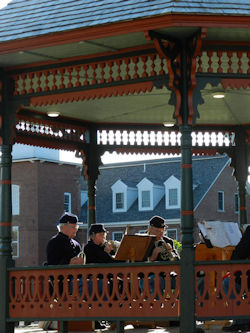 THE HERITAGE SERIES opened at the Belmont Village Bandstand on June 6th. The 12th NH
Regiment was featured, playing to more than 70 people. From left are Mike Swift of Gilford,
Janet Travis of Derry and Mike Mikuski of Deerfield. The honored guest was "A. Lincoln," Jim
August 15th, Newmont Military Band
September 13th, Grandparents Day Celebration Don Watson and Jackie Lee with special guests
---
News
Village Revitalization Advocacy
At the May 11, 2009 joint meeting of Selectmen, Planning Board, School District and other municipal committees the Heritage Commission recommended the establishment of an ad hoc committee appointed by the Selectmen for Village Revitalization. The Selectmen, at the request of Heritage Commission representative Cormier, supported that recommendation on May 20, 2009. The Commission's active support of this important community initiative continues and is reflected in many of the projects and events listed below.
---
Belmont Mill
The Belmont Mill Story– a Belmont Heritage Commission presented at the March "Community Preservation Workshop" special thanks to Christopher P. Williams, AIA March, 2009
---
Village Lighting Upgrades
New energy efficient LED lights were turned on outside the Mill, capping more attractive ornamental poles, reminiscent of earlier Village times. Sargent Park lighting was also redesigned for better distribution and conservation, by replacing 1000 watt bulbs with 400 watt illumination. Upgrades included the entrance, complementing recent recreational equipment purchased for Belmont's youngest citizens. Lighting projects were funded from a $95,100 federal grant successfully sought by the Commission and awarded to the Town in 2010. 2011
---
Community Heritage Awards
In 2011, the inaugural New Hampshire History Week was ceremonially noted in Belmont with accolades for volunteerism and excellence by the Heritage Commission's creation of the first annual "Community Heritage Awards" recognizing exemplary initiatives that foster Belmont Heritage.
As Ronald Cormier, Vice Chairman of the Selectmen and representative to the Heritage Commission said, "The people and projects recognized represent hundreds of hours, care and visibility for our heritage. These awards are well-deserved and overdue."
---
Deck the Village
First coordinated in 2008, this annual Christmas season event brings community members together to creatively decorate and prepare the Village for the Holiday Season. The event includes both indoor and outdoor activities for all ages.
---
Make a Difference Day
2008 was Belmont's premiere participation in the Nation's largest day of volunteering. This now annual community effort has included planting over 1,500 spring-blooming daffodils in special community places including Sargent Park and at the Library and Veterans' Monument.
---
Cruisin' the Village
The first annual Cruisin' the Village event was held in 2011. The day combines classic cars, great food, music, prizes, giveaways, raffles and trophies. Cruisin' Website.
---
Events
LRPA-TV Presents "Community Heritage Workshop" A Laconia and Belmont Collaboration - 2014

Old Home Day Exhibits - Building awareness of Belmont heritage was a focus, and widespread publicity was generated throughout the year. In addition to exhibits at Old Home Day, the Commission generated generous media attention in Lakes Region and Central NH media, publications- including the Boston Globe and USA Today – recorded our community preservation milestones, awards and activities. Additionally, LRPA-TV again aired several cultural and historical programs, earlier developed by the Commission and produced an original 30-minute Mill feature for "Lakes Region Spotlight" 2012 airings. 2011

Plan NH Charrette 2010

Community Preservation Workshop – co-sponsored with NH Preservation Alliance & NH Division of Historical Resources 2009

NH Humanities Council – lecture UNH professor David Watters 2009
NH Humanities Council – performance John Perrault 2009
Bandstand Centennial - a Day to Remember in Belmont. In 2009 the community celebrated this historic landmark with Councilor Ray Burton commenting that the historic Bandstand "is a reminder of community care and heritage...in its setting near the Tioga River and the Belmont Mill, it remains a symbol of identity and pride in the very fabric of your Town". Executive Councilor Ray Burton
NH Humanities Council – performance storyteller/humorist Rebecca Rule 2008
NH Humanities Council – lecture Dartmouth professor Jere Daniell 2008

---
Annual Reports
Introduction & Update, May 2009 - Progress & Priorities - a presentation to Selectmen, Planning Board, Conservation Commission, Shaker Regional School District leadership and others.
---